2014 in retrospect.

I'm going to break this down into subjects this year. Let's switch it up a bit. 2014 was the year of multimedia for me.

Life
This year we said goodbye to our cat Peter. He was a good cat. We had him for years. He was rescued as a kitten up in a cabin with his brother Batty. He was one of the most chill cats you could ever know.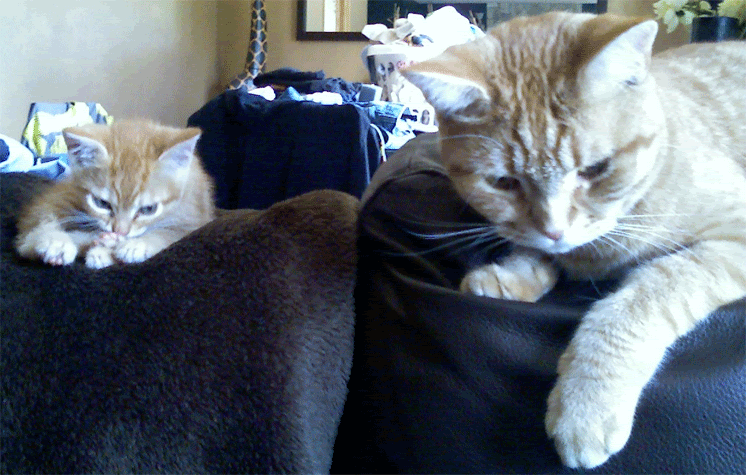 Crash on the left, Peter on the right.
Writing
In early to mid 2014 I started to re-write my first novel,
Project C
. I finished the novel in 2009 or so, subbed it to many places, got numerous rejections, trunked it and worked on new stories. Since 2009, I feel that I have grown as a writer, but the story was still viable. So in 2014 I picked it back up again. I got aggravated, dropped it again, then was encouraged to re-plot the bastard. I was also taught a hard lesson about letting characters and stories evolve thanks to the finale of How I Met Your Mother. So that was the majority of 2014`s writing.
Over the last 3 days I plugged ahead and wrote about 10k of stuff for this novel.
2015 is dedicated to finally finishing
PROJECT C
2014 and making it the best it's ever been.
I wrote a short story I am quite proud of. More on that later, in 2015.
I shoved
Re-Invention
through the submission game again, but with no bites.
I'm tentatively plotting a short story collection. I just have to write it first.
I poked at
ELVEN LACRYMENT
.
Maybe I'll consider self-publishing something come new year.
Reading
This year I read The Death of Bunny Munro after years of wanting to read it. I adored it, but felt a little bad about it. I delved into new comic series with Alex + Ada and the Alice Cooper comics. I revisited Warren Ellis with Scars and Lazarus Churchyard, and gave Grant Morrison another chance with The Pro and Multiversity: Pax Americana.
I read critically acclaimed books A Fault in Our Stars and Gone Girl and thought little of them. I read self-published books about the triumph of the human soul in the face of diversity with Ghost No More and Daniel Wallock's short stories.
Music
I'm not a modern music person. I don't listen to the radio. The only albums of 2014 I cared about were Weird Al's
Mandatory Fun
and Rishloo's
Living as Ghosts With Buildings As Teeth
. South Park brought out my favorite song of 2014 with "
Push". Yes, really.

However, this year I also had Nick Cave stand yards away from me and sing Push the Sky Away. It was one of the best moments of my life.

Movies
Short version: Best movie of the year for me is The Lego Movie tied with Guardians of the Galaxy. Worst movie is No Good Deed.
I went to see two music documentaries in theatre. Super Duper Alice Cooper and Nick Cave's 20,000 Days on Earth. I saw movie versions of books I had read (Gone Girl, The Giver), I dropped movie versions of books I read (The Fault in our Stars).
I decide to follow an anthro raccoon for 2 hours with zero regret. I left Godzilla in my living room to get a drink. The Lego Movie is AWESOME!

Tusk had me, then lost me, but yay for practical effects.
Hyper-stylized sequels like 300: Rise of an Empire and Sin City: A Dame to Kill For didn't live up to their predecessors, but X-Men: Days of Future Past was probably the best X-Men movie we've had yet. How to Train your Dragon 2 is probably my favourite sequel of the year.
Dawn of the Planet of the Apes was good, but I liked the first one better.
Snowpiercer was a breath of fresh air.
Knights of Badassdom made me snicker at times and I appreciated the practical effects.
Gimme Shelter felt like it had huge chunks missing in the middle. Friendships grew waaaayy too fast in that story.
Jodorowsky's Dune was a great look at the process of making a movie and cultivating creativity.
The Sacrement had too much telling, not enough showing. WHY are these things creepy? They're praying? Why do you find that creepy, camera men? Why am I suppose to find it creepy?
Open Windows was a fun thriller, with cool visuals.
The Good Lie was both harsh and funny. Well balanced and real good.
Book of Life was visually sumptuous but was way too reliant on pop-culture. But so pretty!
Big Hero 6 was great. It had so much heart. It could have just been Hiro and Baymax and I would have been fine. I didn't find his buddies particularly...nessisarry.
Stage Fright was cute, but the music was not memorable and the ending rather predictable.
Angelina Jolie and the costume design were the best things about Maleficent.
Live Die Repeat Edge of Tomorrow was a solid action movie. But I found myself wishing Eva Green was cast instead of Emily Blunt.
I liked the live action version of Kite and felt like a traitor to the anime. It shouldn't have worked, but it DID!
Cheap Thrills...I don't remember how that ended. I think I was multitasking when I watched that. Also I constantly get it mixed up with 13 Sins, which is basically the same premise.
The Muppets Most Wanted was fun! I like fun!
No Good Deed was probably the worst movie I saw in 2014. But, then again, I couldn't sit through The Purge: Anarchy because I was so bored.
Video Games
I got my gaming laptop and got lost in Mordor, Tamriel and Lodaeron. I started my Jedi training, I fought to claim the Stick of Truth, I defended House Forrester, drowned hysterical sims, and I dodged and distracted zombies.
I also play tested a couple of games in their beta state. I'm not allowed to say which ones, or who for, but the games are available for purchase to the public. It was a really fun experience and I'd do it again if the chance arises.
I miss Mass Effect.
This is the first year that my niece and I don't have a Batman game to mainline over the break. It feels weird. Our tradition has been broken.
Art
I did 4 arts. Three of them were fanart, one was a manipulation for a friend, one was template-based. I totally called it. I knew 2014 would be a bad year for art. But I already have art to make in 2015 so things are looking up.
So, here's to a great 2015.