Day 02 - Your favourite character.
As I said in the previous post Rogue used to be my favourite character, but Marvel managed to screw her up and I felt out of fangirl for her.

Then I discovered Generation-X, specifically Chamber and Penance. These were cool, awesome broken characters and appealed to my dark goth side.
I named my knife Penance, and I bought Age of X and Loners simply because of Chamber and Penance respectfully.
[caption width="300" align="alignnone"]
"...I believe we are kindred spirits, you and I..."[/caption]

But then came The Maxx and with it, one Artemis Pender (Mr.) Gone. I loved his dialog and he was genuinely creepy and did a very good "man behind the curtain" shtick. Hell, I still randomly recite some of his monologues to myself. Granted, I also recite the entire Crappon Inna Hat episode too, so there's that.
[caption width="300" align="alignnone"]
"Pity, I normally hate killing amnesiacs..."[/caption]

But then, I still have my Jackie Estacado posters on my wall and I adore the video games...
[caption width="200" align="alignnone"]
Remember when The Darkness was a comic with a sense of humour and self-awareness?[/caption]

And Parintachin is the best thing to exist in Poison Elves, hands down. Hilarious, frightening, insightful, loyal, sports a jester's hat...
[caption width="300" align="alignnone"]
"I'm your Neurosis, my boy..."[/caption]

Oh wait, how could I possibly forget the one and only Deadpool?! Hell, he's the best thing both Rob Liefeld and Canada have ever done. Ever.
[caption width="300" align="alignnone"]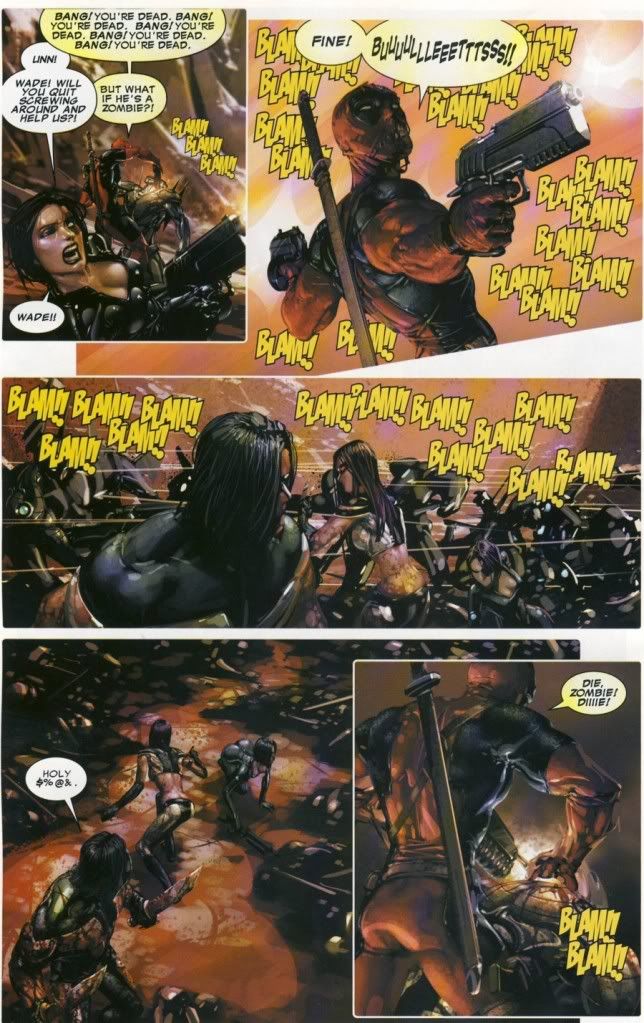 BULLLEEETS!![/caption]

So, let's do this: In an effort to make this more inter-active, I'll put up a poll and you have to guess which is my favourite character. I'll give you all the answer tomorrow.
Feel free to leave a comment telling me why you think they are my favourite.